RTF to JPG
Convert online and free RTF to JPG
Uploaded filetype:
Choose filetype:
Advert:
Rich Text Format (RTF) is a file format that allows you to write a text file, save it on one operating system, and then have the option of opening it on another system. You cannot add images or objects – the file only supports text formats. For this you can create a file in Microsoft Word in Windows and save it as an rtf file and send it to someone. The "WordPerfect 6.0" software is used on every version of Windows so that you are always able to open and read the file. Convert rtf to jpg online If you are still unable to read the rtf file on your computer, you can use the option of an online converter, for example. The advantage of an online converter compared to conversion software is that the conversion can be carried out on any computer with an Internet connection in a few seconds. So you don't have to download and install the software first – for example, if you just need to access the file from another computer to read it. The "RTF to JPG Online Converter" is an application that does exactly what the name says. It converts the RTF files into JPG or JPEG files. The conversion process is very easy to follow and is done in fewer steps, which by the way are explained in more detail online. There is also another advantage of the online converter here: the entire conversion process is very simple and can be done in fewer clicks. You will immediately see how well designed and user-friendly this online interface is. Another special feature is that the online converter can convert a large number of RTF files at the same time. You simply select the files to be converted and the RTF to JPG converter software takes care of the rest, converting the files successfully and safely. On average, the conversion process is very quick. More about Rich Text Format Rich Text Format (often abbreviated as RTF) is a proprietary document file format from Microsoft. It was developed to enable cross-platform document exchange with Microsoft products. Today, most word processing programs can read and write RTF data. In contrast to many word processing formats, the RTF code can also be displayed legibly. If an RTF file is considered a plain text file, the ASCII text contained is easy to read. The RTF specification uses the ANSI, PC-8, Macintosh and IBM PC character sets. It defines control words and symbols that serve as common denominator formatting commands. When a file is saved in "Rich Text Format", the file is processed by an RTF burner, which converts the "markup" of the word processing program into the RTF language. When reading, the control words and symbols are processed by an RTF reader, which converts the RTF language into the formatting for the word processor that displays the document.
Guide: Convert RTF to JPG online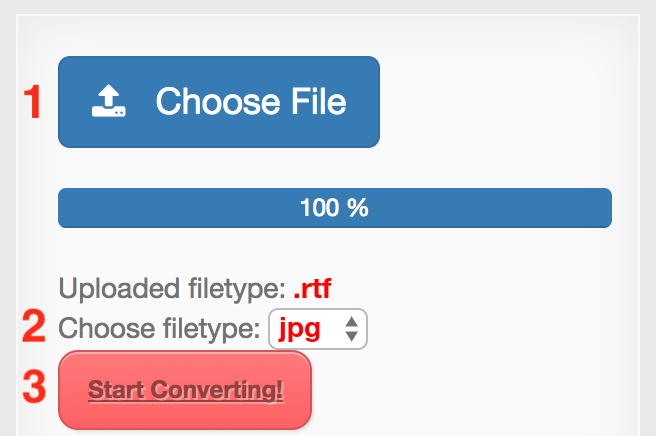 Choose input RTF file
Check target filetype and change if required (JPG)
Hit the "Start Converting!" Button
That's it! Your download will start automatically on the following page
Currently we support the following conversions with RTF files:
All Converters
Information about the extensions for the conversion from RTF to JPG
From: RTF
A rtf file is a text file that has been saved in the Rich Text format. Unlike a txt (Plain Text) file it also contains formatting code like italics, bold or underline, different font styles and sizes, text formatting info, and it may include images a …
File extension:
.rtf
More information and converters for RTF
To: JPG
The jpg, or JPEG, file format is used for images. It is often used for digital photos, and for images displayed on the internet. It is a common format that can be opened by most computers, tablets, mobile phones, and other devices. Saving an image …
File extension:
.jpg
More information and converters for JPG
Video-Tutorial: RTF to JPG
File-Converter-Online.com is a service for converting files online from one type to another. We take care of your privacy and take care of your files. As a part of this, there's no registration required on file-converter-online.com. As we're offering our service in a browser, it does'nt matter whether you use Windows, Apple OS X or Linux. Your conversion results will always be at the same, very high quality and of course, without watermarks.